River Fal Near Trelissick Gardens
Roundwood Quay is a peaceful unspoilt spot, on the junction of the Rivers Fal and Truro, and Lamouth and Cowland Creeks. It is steeped in history, with the remains of a Medieval Fort and the remains of buildings which provide evidence of its industrial past.
On the main River a more modern maritime backdrop is provided by the King Harry Ferry, large ships moored up, the mussel farm, as well as a variety of recreational craft passing by.
There is a beautiful walk from Trelissick Gardens.
Directions
Link to the map of Roundwood Quay
Note there is a mile long bumpy track to the Quay (not suitable for cars with a lower suspension). There is parking at the top if you would prefer not to drive it.
Take the Falmouth Road from Truro (the A39)

When you reach Playing Place at the second Roundabout take the left signposted Trelissick Gardens and King Harry Ferry.

After around 1km you reach Penelewey, passing the thatched Punchbowl and Ladle (a very nice Pub for Food!)

Just at the end of the village past the Bus Stop on your right take the turn left called Mount George Road, There's a small finger signpost there saying Combe & Cowlands (if you get to the big King Harry Ferry sign you've missed the turn)

Follow the road for about 600m and there's a zig at a farm followed by a zag.

100m on take the track to your right marked with a small sign public bye way (If you get to Cowlands then you have missed the turning).

Follow the long bumpy track down, down, down eventually through a few houses until you get to the Quay and a parking area.
If you have any questions at all please Contact Us.
Other launch sites along the Fal include Malpas, Truro & Mylor Harbour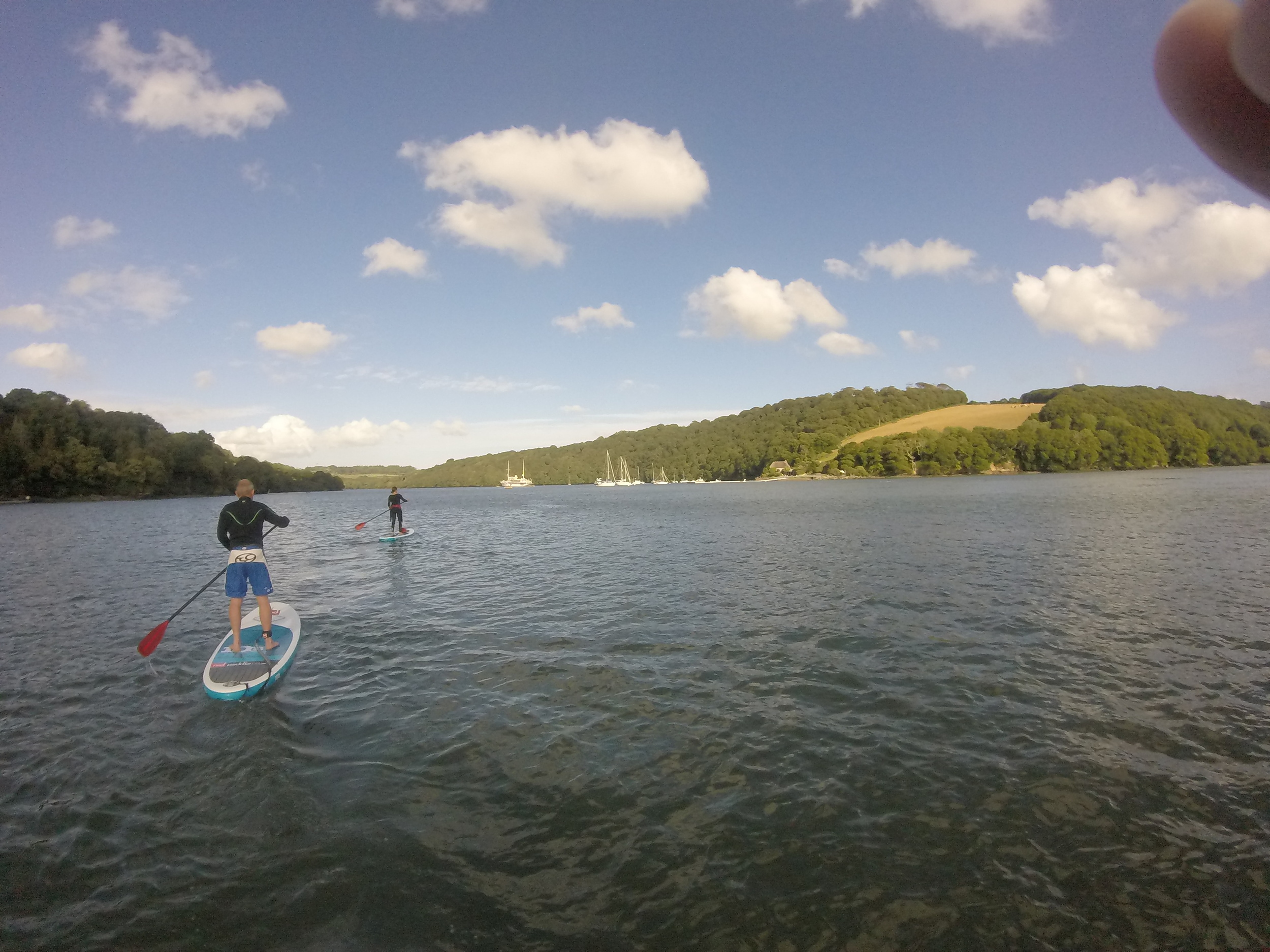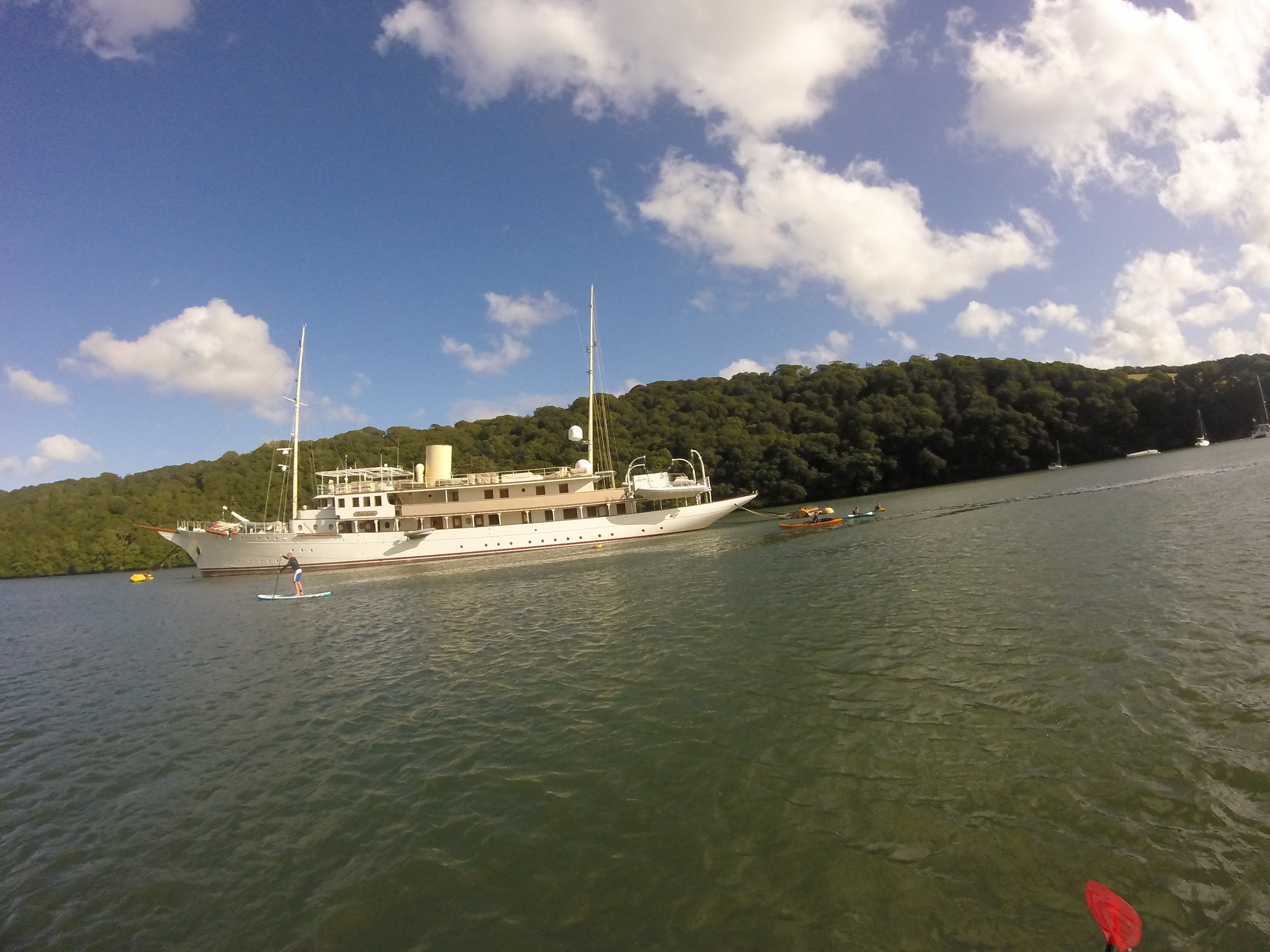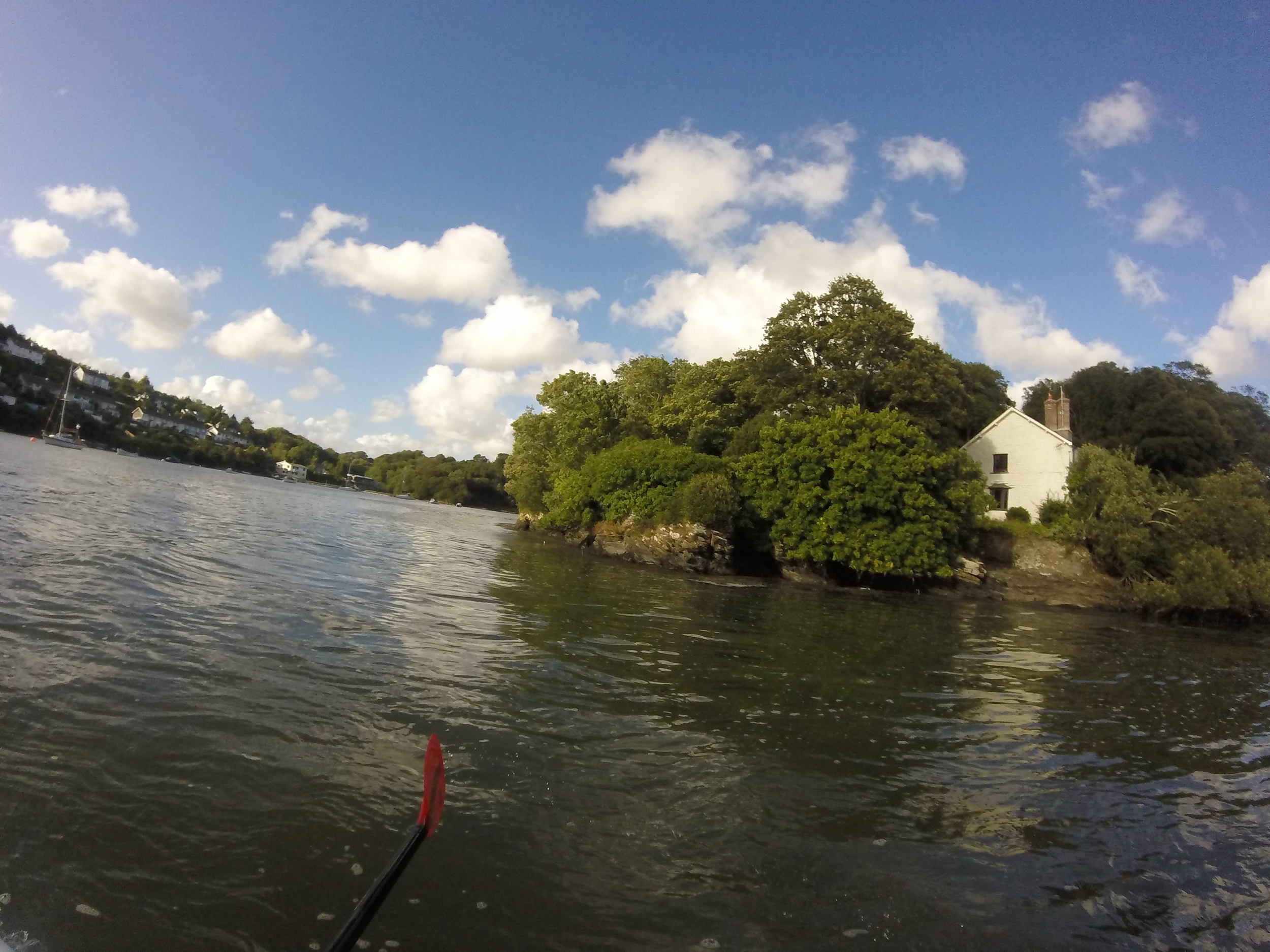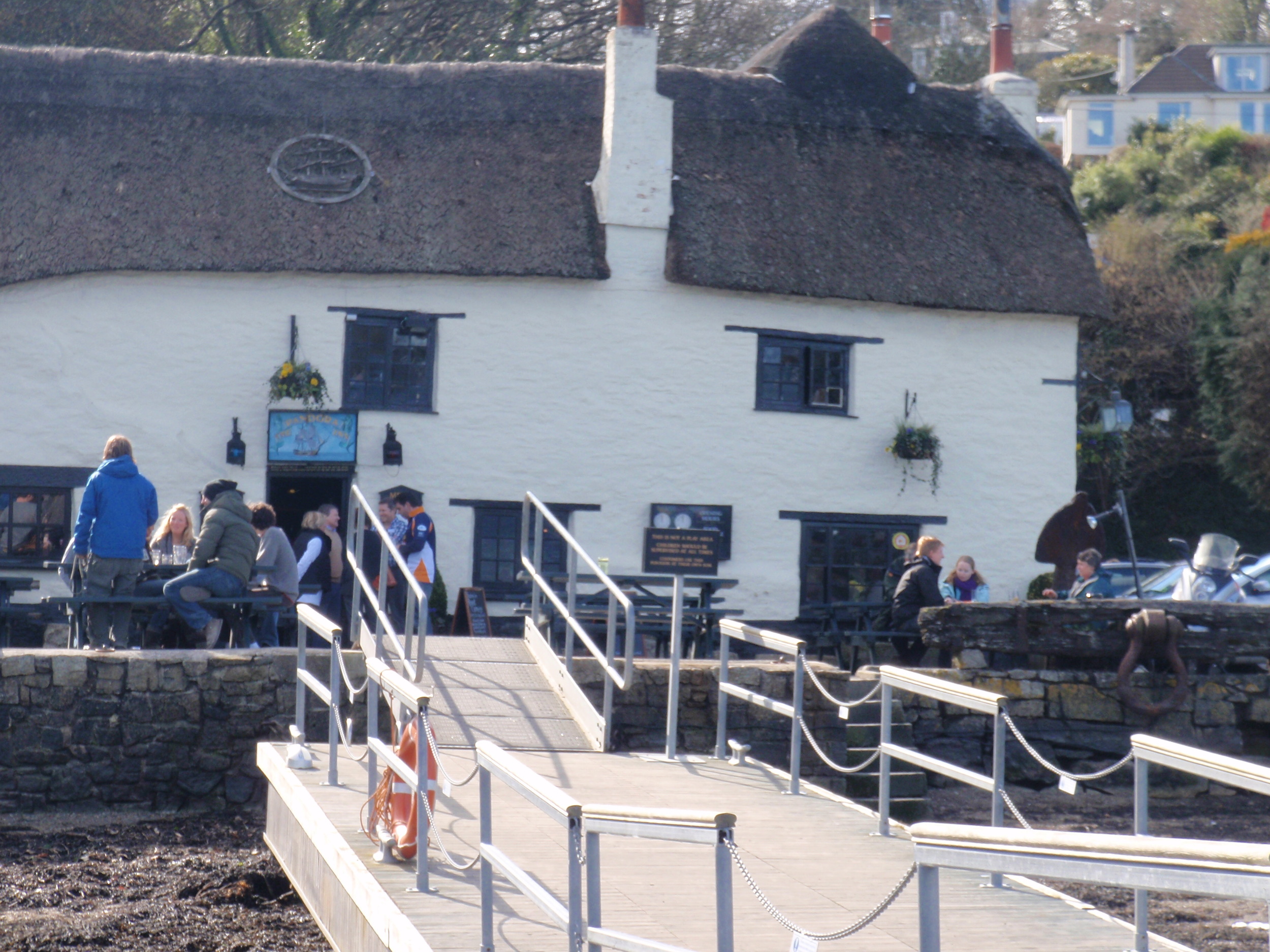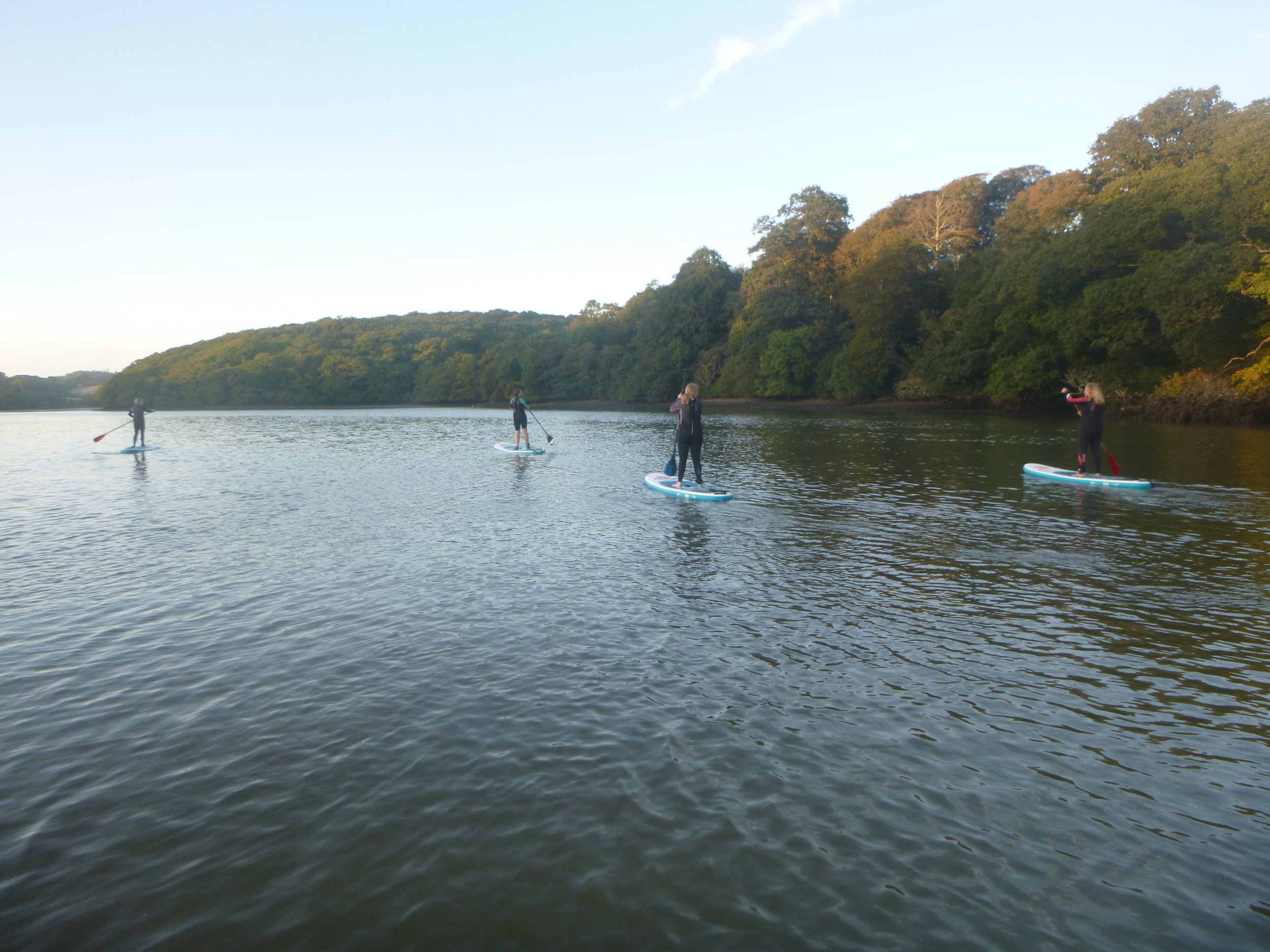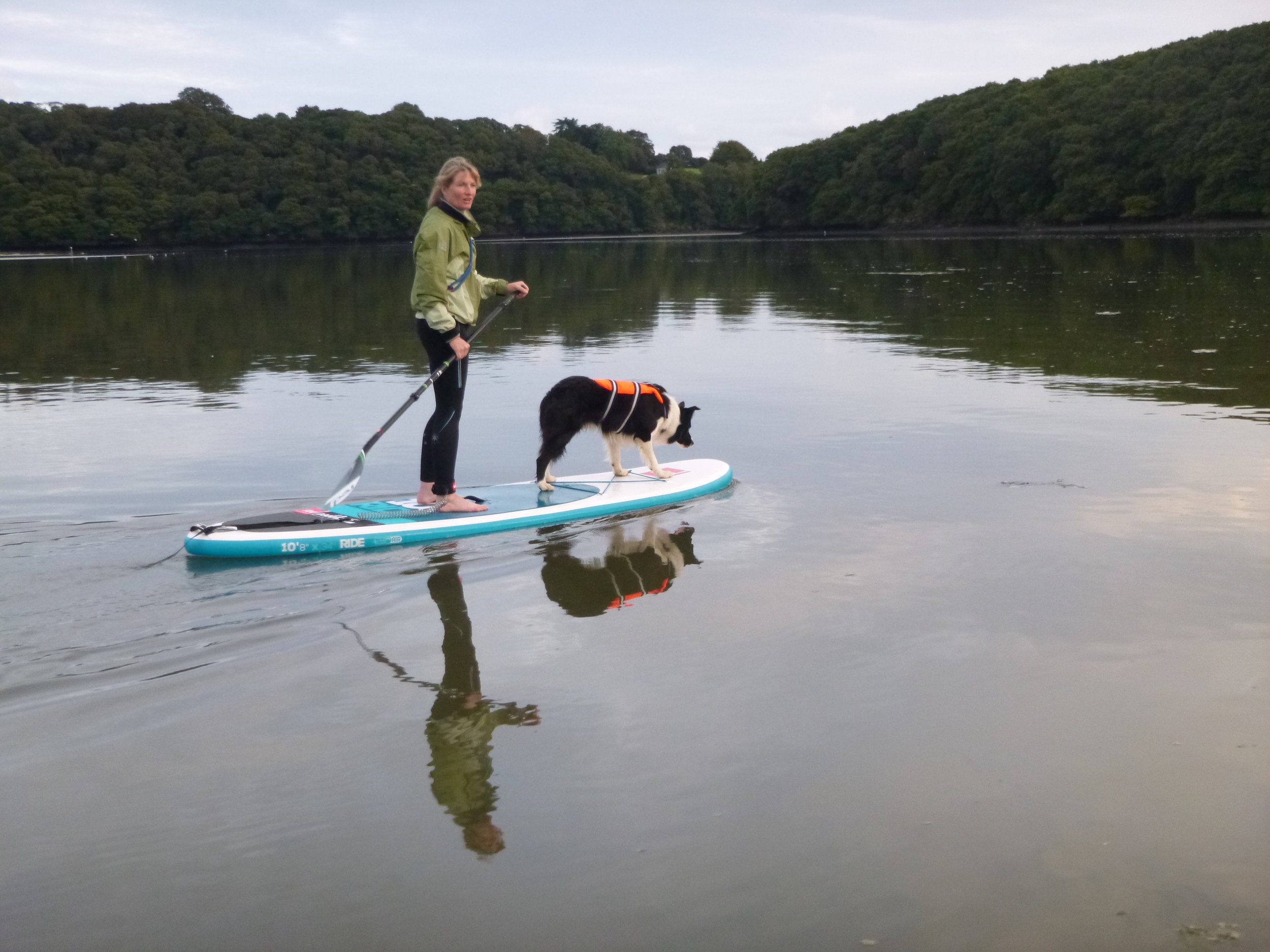 What to expect
It's a good idea to arrive at least 15 minutes before the start time as there is a little 'faff' associated with boating activities, usually getting changed, allocating equipment, having a chat and deciding what to pack in the dry bag. At the start of the session you will receive a short shore briefing covering:-
The tour route or details of the taster

Safety considerations including, communication, equipment and hazards

An introduction on how to Stand Up Paddleboard

Then it's time to hit the water
There will be plenty of time for asking questions and paddling tips are provided during the trip / taster as appropriate.
What to wear
What to wear on a SUP is personal choice, but we recommend:-
Spring: full length wetsuits are best even on sunny days as the water hasn't warmed up yet. It is always good to bring a wind proof jacket and warm hat even if we stow them in a dry bag. If you know you get cold it may be worth bringing gloves.

Summer: a shortie wetsuit is ideal, but plenty of us paddle in summer with a full length wetsuit on while experienced SUPers will be happy in board shorts. A wind proof and a hat are always a good idea if you feel the cold.

Autumn: The weather varies so much and the water is warm in Autumn. We would recommend a full length wetsuit (Winter wetsuit later in Autumn) and bring along spares of a waterproof jacket and hat. Wetsuit boots if you feel the cold and if the weather is cooler.

On your feet: Stand up Paddle Boarding is easier bare feet, however many people opt to wear wetsuit shoes or old trainers, particularly for launching off rocky shores and on cold days neoprene boots are essential.
If you require a wetsuit we recommend hiring through Bathsheba Surf Shop in Perranporth and you will receive a discount if you mention SUP in a Bag.
What to bring?
Bring a drinks bottle (reusable ideally) and small snack for two hour trips

Picnics or refreshment options will be discussed on booking for longer trips.

Suncream, as the effects of the sun while on the water are stronger than on land. Don't forget your feet!
Bring a towel for the shore
Facilities at Roundwood quay
There are no amenities at Roundwood Quay, there is a café and toilets at the nearby Trelissick Gardens (there is a small charge for parking).
The Punchbowl and Ladle is a 15th Century thatched pub that does great food and is just 5 minutes drive away in Penelewey.
Parking for the SUP is adjacent to the launch site free of charge.
For more information about SUP Tours in Cornwall
Roundwood Quay appears in our 2015 Video on the home page.